Overview
Kobo Resources Inc. ("Kobo Resources" or the "Company") is a growth-focused gold exploration company with a compelling new gold discovery in Cote d'Ivoire, one of West Africa's most prolific and developing gold districts, hosting several multi-million-ounce gold mines. Cote d'Ivoire is recognized as a top tier gold province underlain by Paleoproterozoic Birimian Group rocks that host significant gold reserves and is a high priority target for many gold companies. The Company's 100%-owned Kossou Gold Project ("Kossou") is located approximately 20 km northwest of the capital city of Yamoussoukro and is directly adjacent to one of the region's largest gold mines with established processing facilities.
The Company holds two key research permits totaling 449 km2 and has three additional pending Research Permit applications totaling 1,068 km2, all hosted by Birimian Group units in central Côte d'Ivoire. Kobo also controls the Kotobi Research Permit (302 km2) and has three pending Research Applications in the Bongouanou Region covering approximately 1068 km2. All projects and potential projects are underlain by Birimian host rocks.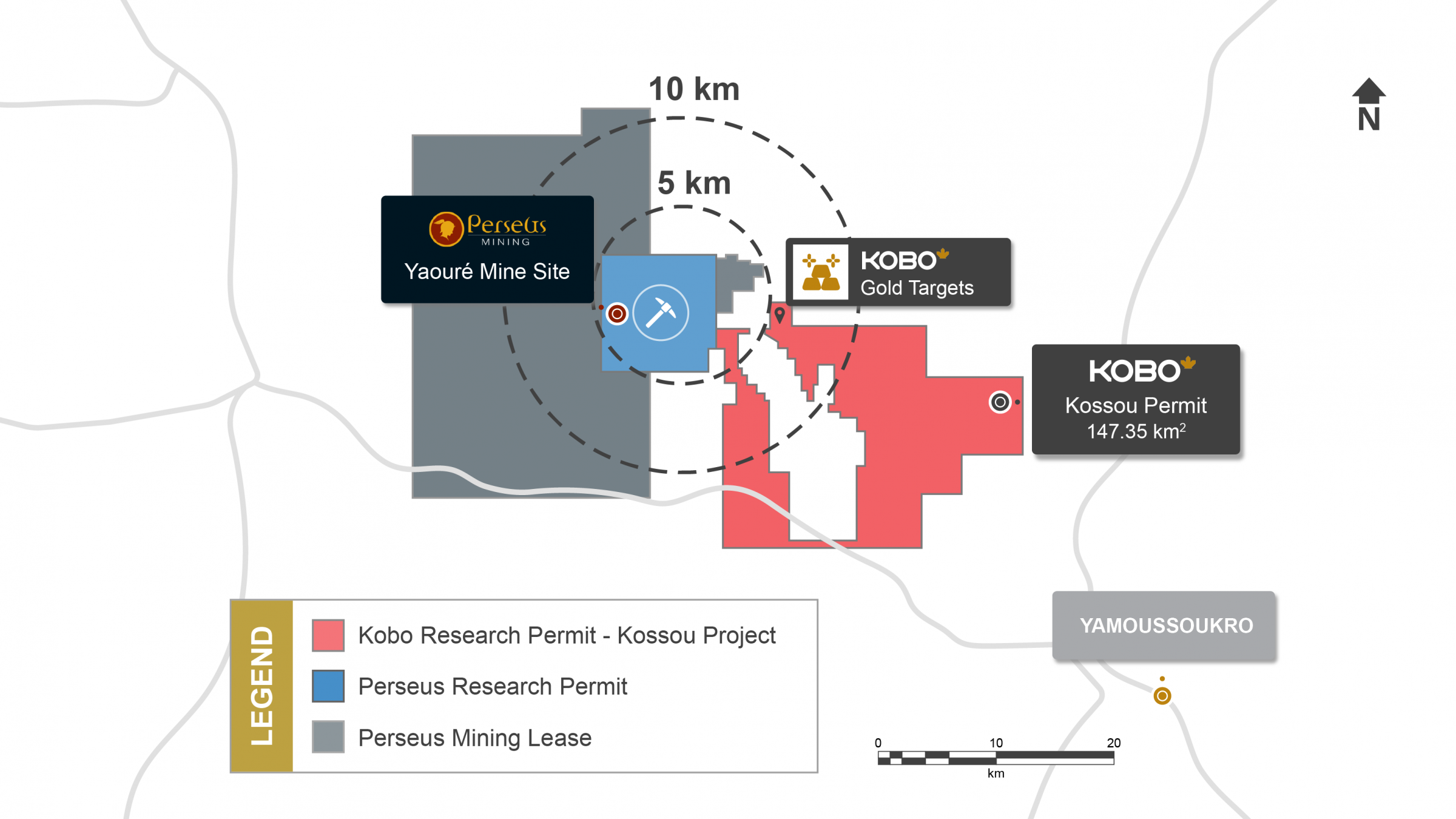 Proximity to Nearby Operator Considered an Asset
Kobo is focusing exploration efforts primarily on the Kossou Gold Project ("Kossou" or the "Project"), covering 147 km2 of highly prospective greenstone belts immediately adjacent to one of the countries largest gold mines. Key gold showings lie within 5 to 7 kilometers of the Yaouré Mine operated by Perseus Mining Ltd. Kobo has identified several highly prospective gold zones using soil geochemical sampling, rock and trench sampling that had not previously been discovered. Importantly, the geological setting and proximity to Yaouré give the Kossou project a decided advantage compared to many exploration opportunities.
As per the Perseus Mining website, the Yaouré mine has Measure and Indicated Resources of 2.4 million ounces gold and Proven and Probable Reserves of 1.6 million ounces gold. Yaouré poured its first gold in December 2020 and declared commercial production in March 2021. The mine is expected to produce more than 200,000 oz gold per year over the first 5 years with an average AISC of US$745 per ounce. Overall mine life is currently estimated at ~8 years.