Regional Geological Overview
Geological conditions
Côte d'Ivoire is relatively under-explored compared to its West African neighbors, but it is home to approximately 35% of the Birimian Formation exposure in West Africa, more than any other country. Birimian group rocks host the majority of gold deposits in West Afrcia.
West Africa's Birimian greenstone belts have produced at least twenty gold deposits greater than 2 M oz since 2000 with ten deposits greater than 4 M oz.
Birimian rock formations are home to all of the major gold mines in West Africa.
Birimian Formation.
Côte d'Ivoire has accounted for approximately 3.6% of historical production and remains underexplored and developed compared to its neighbours.
Annual production in 2020 (World Gold Council 2018)1:
Ghana – 138.7 tonnes
Mali – 93.8 tonnes
Burkino Faso – 93.4 tonnes
Guinea – 56.9 tonnes
Côte d'Ivoire – 36.4 tonnes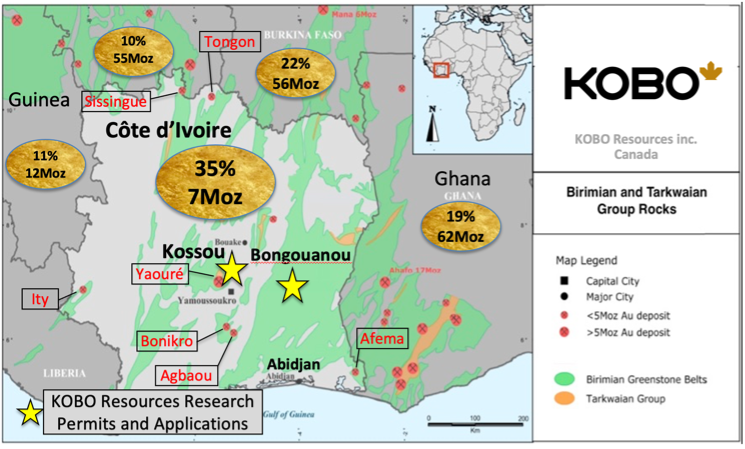 Technical concept proven in other West African jurisdictions - reduced risk in Côte d'Ivoire.
Côte d'Ivoire is underfunded and lacks significant exploration efforts using modern methodology compared to its neighbors.
Côte d'Ivoire offers a unique opportunity for exploration / development companies to quickly access very promising areas.
Now is the perfect time to enter Côte d'Ivoire into the mining sector.