April 13, 2023
Kobo Resources Provides an Overview of the Highly Prospective Gold Discovery at its 100%-Owned Kossou Gold Project in Preparation for its Maiden 8,000+ Metre Drill Program
QUEBEC CITY, QC – Kobo Resources Inc. ("Kobo" or the "Company") (TSX.V: KRI) is pleased to provide an overview of its compelling new gold discovery at the Company's 100%-owned Kossou Gold Project ("Kossou") in Cote d'Ivoire, one of West Africa's most prolific and developing gold districts. The Company also announces plans to initiate its first drill program at Kossou, an 8,000+ metre ("m") reverse circulation ("RC") drill program to define significant near surface zones of gold mineralisation.
Edward Gosselin, CEO and Director of Kobo commented: "Following the completion of our listing on the TSX Venture Exchange, Kobo offers investors the opportunity to participate in the growth of an early stage, growth-focused gold exploration company with the exciting combination of high-quality gold prospects led by an experienced leadership team with in-country experience." He continued: "Based on the previous exploration completed and outlined in our most recent technical report, we view Kossou as having significant potential for growth and scale. As we begin our fully funded, maiden drill program in Q2 2023, we believe the identified targets have significant potential for future discoveries as we continue our work to unlock Kossou's full potential."
The Kossou Gold Project – Kobo's 100%-Owned Flagship Asset
Kobo is primarily focused on the exploration and development of Kossou, an early-stage gold exploration prospect which covers approximately 147 square kilometres ("km2"). Kossou is located in the Yamoussoukro and Bouaflé regions of central Côte d'Ivoire, being approximately 22 km northwest of the capital city of Yamoussoukro and 250 km the financial capital of Abidjan.
Several highly prospective gold zones not previously discovered have been identified by the Company's exploration efforts to date, supported by extensive soil, rock sampling and trenching results.
Kobo is led by a highly experienced management team with strong in-country expertise as well as decades of experience in mineral exploration and development, mine site exposure and capital markets.
Proximity to Nearby Operator Provides Access to Excellent Infrastructure
Kossou is located directly adjacent to the Yaouré Gold Mine operated by Perseus Mining Inc., providing a geological setting with advantages generally not accessible to other exploration opportunities in the area. The Company's key targets are situated within five to seven kilometers of the Yaouré Mine and process facility, in a district well-kn for its general infrastructure and its artisanal and commercial scale gold production. Importantly, geological and structural controls and alteration styles present at the Yaouré Gold Mine are interpreted to occur within the Kossou permit, indicating mineralisation and alteration styles that are relatively similar.
Figure 1: Location and Infrastructure Map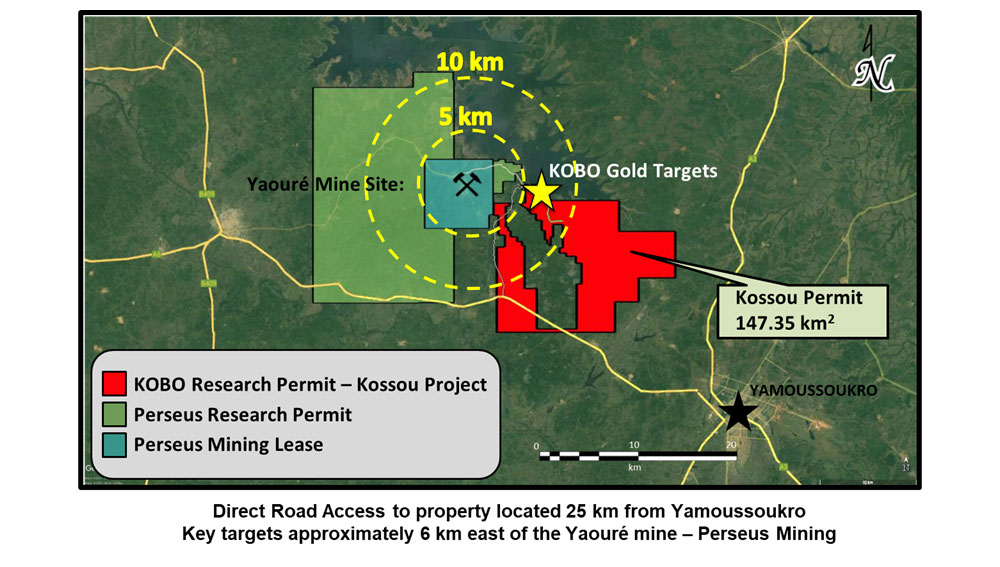 Kossou is connected directly to the regional transport grid and there is a well-established road connecting the project to the Yaouré Mine site. The proximity of Kossou to the hydroelectric power facility at Kossou Dam also provides convenient access to the main grid power supply which transects the property. Additionally, universities in Abidjan and Yamoussoukro provide a suitably skilled labour force and there are several established international analytical laboratories in Yamoussoukro that the Company has access to.
Fully Funded Drill Program Outline for 2023
In Q2 of 2023, the Company has planned for over 8,000 m of RC drilling with an immediate goal of defining significant near surface zones of gold mineralisation. Results of this first phase of drilling will determine additional drilling to depth to extend potential mineralised zones.
Historic Exploration Work Demonstrates Compelling Gold Mineralization
Kobo began its exploration efforts in 2016 with the discovery of the Road Cut Zone ("RCZ") and as a result expanded its exploration activities to include soil geochemical and rock sampling, trenching and airborne geophysical surveys at Kossou. The Company has collected a total of 3,520 soil samples, 943 rock samples and completed 1,278.2 linear metres of trenching and 42.50 m of surface channel sampling. The Company has also completed 1,195 line-km of unmanned aerial vehicle ("UAV") magnetic surveys across the north-western corner of the permit. Based on the Company's initial results, gold mineralisation is widely distributed within the sampled area with significant gold grades demonstrating well mineralised intersection in trenches supporting soil geochemical anomalies at the RCZ and Jagger targets. The Company has delineated at least seven significant zones of potential gold mineralization highlighted by the RCZ, Jagger ad CZ targets. Other targets include Jagger South, Kaydie, Kilo and Shadow zones. Much of the project remains un-explored and remains prospective for gold mineralisation.
Figure 2: Gold in Soil Geochemistry Anomaly Map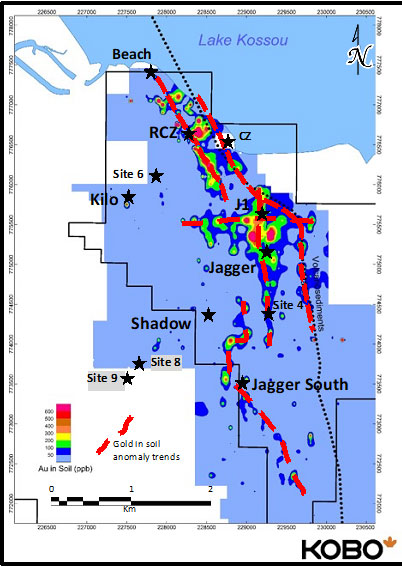 RCZ
Confirmed gold in soil geochemistry at RCZ indicates this target can be traced over a strike length of approximately 1.7 km and is a prime target for the Company's 2023 drill program
Favourable mineralised intersections at RCZ show 18.20 m at 4.64 g/t Au (RCZ1)
Recent trenching has also exposed mineralisation that assayed 11.30 g/t Au over 4.0 m (KTR003), 8.48 g/t Au over 5.00 m (KTR001) and 8.50 g/t Au over 3.4 m (KTR012)
Gold grades of 90.20 g/t Au have recently been obtained in highly silicified lithologies on the un-sampled edge of trench KTR012 which is in the progress of being extended
Figure 3: RCZ Trench Sample Map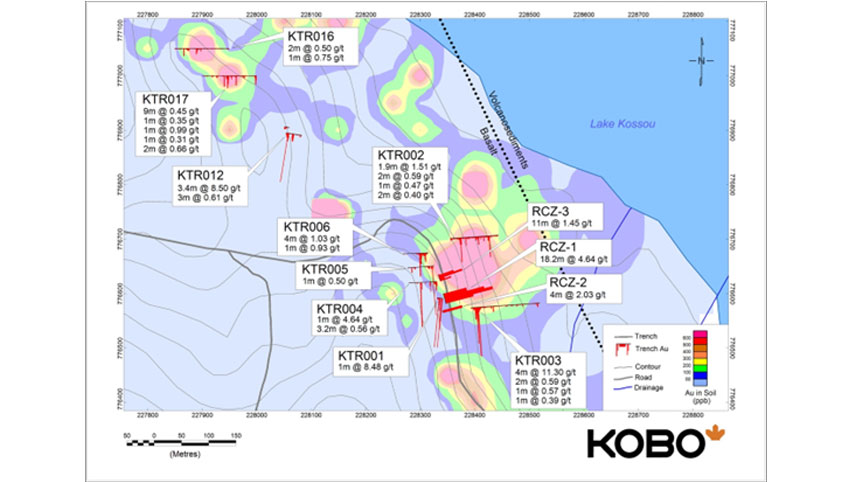 Jagger Zone
Strong gold in soil geochemical anomaly defined over 2.8 km strike extent and up to 500+ m in width
Promising gold values were reported in trenches: 4.55 m at 3.72 g/t Au (KTR009) and 6.20 m at 5.36 g/t Au (KTR010) associated with well-defined zones of shearing containing quartz veinlets aligned along the foliation
Surface chip samples at a recently discovered hydrothermal breccia returned values of 4.55 m at 3.72 g/t Au and 6.20 m at 5.36 g/t Au and has been traced over 450 m along assumed strike (trenching ongoing)
Figure 4: Jagger Zone Trench and Rock Sample Map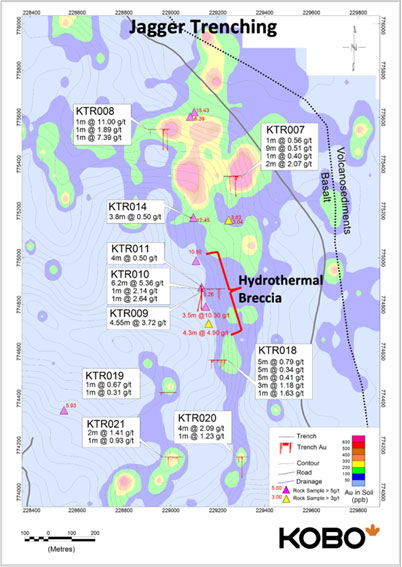 Secondary targets including the Shadow and Kilo zones exhibit strong gold mineralisation and can be traced on surface over 350 m and 500+ m respectively. Further geological assessment of these targets is ongoing.
Additional Exploration Opportunities
Kobo also has one issued Research Permit and three pending Research Permit Applications in the Bongouanou region, located approximately 125 km east of Yamoussoukro. The Kotobi Permit (302 km2) has seen preliminary soil geochemical assessment and the Company is planning a 1,520-line km UAV magnetic survey in Q2 of 2023 to aid in geological assessment. Additionally, the Company has three pending Research Permit applications totalling 1,068 km2.
For more details, please download the Company's latest National Instrument ("NI") 43-101 Technical Report entitled Update of the Kossou Gold Project Yamoussoukro District, Côte d'Ivoire here.
Mining Friendly Jurisdiction with Exceptional, Underexplored Regional Geology
Côte d'Ivoire offers a unique opportunity for exploration and development companies to quickly access a highly prospective geological environment. Côte d'Ivoire is relatively under-explored compared to its West African neighbors and is home to approximately 35% of the Birimian Group exposure in West Africa, more than any other country.
West Africa's Birimian Group greenstone belts have produced at least 20 gold deposits with greater than 2 million ounces ("Moz") since 2000 and ten deposits greater than 4 Moz. Côte d'Ivoire has accounted for approximately 3.6% of the area's historical gold production and remains underexplored and developed compared to its neighbours.
Additional Highlights
West Africa hosts a number of multi-million-ounce gold deposits and exploration, and development activities continue to discover and progress significant new opportunities
Production Ghana, Mali, Burkina Faso and Guinea has totaled over 119 Moz of gold 2011 to 2021, whereas Côte d'Ivoire has only produced 9.5 Moz in the same period
As a result of the new mining code established in 2014, the country is well suited for exploration and resource development, and there is a Tax Treaty with Canada (1985), as well as the Foreign Investment Protection Agreement (2013) between the two countries
Review of Technical Information
The scientific and technical information in this press release has been reviewed and approved by Paul Sarjeant, P.Geo. who is a Qualified Persons as defined in National Instrument 43-101. Mr. Sarjeant is the President and Chief Operating Officer and Director of Kobo Resources Inc.
About Kobo Resources Inc.
Kobo Resources is a growth-focused gold exploration company with a compelling new gold discovery in Cote d'Ivoire, one of West Africa's most prolific and developing gold districts, hosting several multi-million-ounce gold mines. The Company's 100%-owned Kossou Gold Project is located approximately 20 km northwest of the capital city of Yamoussoukro and is directly adjacent to one of the region's largest gold mines with established processing facilities.
The Company is drilling to unlock the potential size and scale of Kossou within 9+ km strike length of highly prospective gold in soil geochemical anomalies with excellent rock and trench sampling results. The Company's 2023 exploration plan calls for over 8,000 meters of reverse circulation drilling with an immediate goal of defining significant near surface zones of gold mineralisation. Kobo offers investors the exciting combination of high-quality gold prospects led by an experienced leadership team with in-country experience.
Kobo's common shares trade on the TSX Venture Exchange under the symbol "KRI". For more information, please visit www.koboresources.com.
###
For further information, please contact:

Edward Gosselin
Chief Executive Officer and Director
1-418-609-3587
ir@kobores.com

Twitter: @KoboResources | LinkedIn: Kobo Resources Inc.

NEITHER THE TSXV NOR ITS REGULATION SERVICES PROVIDER (AS THAT TERM IS DEFINED IN THE POLICIES OF THE TSXV) ACCEPTS RESPONSIBILITY FOR THE ADEQUACY OR ACCURACY OF THIS RELEASE.

Cautionary Statement on Forward-looking Information:

This news release contains "forward-looking information" and "forward-looking statements" (collectively, "forward-looking statements") within the meaning of the applicable Canadian securities legislation. All statements, other than statements of historical fact, are forward-looking statements and are based on expectations, estimates and projections as at the date of this news release. Any statement that involves discussions with respect to predictions, expectations, beliefs, plans, projections, objectives, assumptions, future events or performance (often but not always using phrases such as "expects", or "does not expect", "is expected", "anticipates" or "does not anticipate", "plans", "budget", "scheduled", "forecasts", "estimates", "believes" or "intends" or variations of such words and phrases or stating that certain actions, events or results "may" or "could", "would", "might" or "will" be taken to occur or be achieved) are not statements of historical fact and may be forward-looking statements. In this news release, forward-looking statements relate, among other things, to: information concerning the Qualifying Transaction, expectations for the effects of the Qualifying Transaction or the ability of the Corporation to successfully achieve business objectives, expectations regarding the completion and availability of financing, and expectations for other economic, business, and/or competitive factors. Forward-looking statements are necessarily based upon a number of estimates and assumptions that, while considered reasonable, are subject to kn and unkn risks, uncertainties, and other factors which may cause the actual results and future events to differ materially those expressed or implied by such forward-looking statements. Such factors include, but are not limited to: general business, economic, competitive, political and social uncertainties; and the delay or failure to receive board, shareholder or regulatory approvals. There can be no assurance that such statements will prove to be accurate, as actual results and future events could differ materially those anticipated in such statements. Accordingly, readers should not place undue reliance on the forward-looking statements and information contained in this news release. Except as required by law, Meteorite and Kobo assume no obligation to the forward-looking statements of beliefs, opinions, projections, or other factors, should they change, except as required by law.