May 2, 2023
Kobo Resources Provides Update on its Maiden Exploration Program at the Kossou Gold Project and Other Corporate Activities; Appoints Pierre Boivin as Policy Advisor - Africa
Kobo Resources Provides Update on its Maiden Exploration Program at the Kossou Gold Project and Other Corporate Activities; Appoints Pierre Boivin as Policy Advisor - Africa

QUEBEC CITY, QC – Kobo Resources Inc. ("Kobo" or the "Company") (TSX.V: KRI) is pleased to report continued exploration efforts at its 100%-owned Kossou Gold Project ("Kossou") with the signing of a drill contract with Geodrill CI ("Geodrill") for the Company's maiden 8,000+ metre ("m") reverse circulation ("RC") drill program. Additionally, the Company has appointed Pierre Boivin as Policy Advisor - Africa and filed its fourth quarter and annual 2022 financial statements and management's discussion and analysis for the year ended December 31, 2022.

Edward Gosselin, CEO and Director of Kobo commented: "With the signing of our first drilling contract, the Kobo team is ready to execute on its fully funded maiden drill program at the Kossou Gold Project. We expect to have the requisite clearing equipment on site imminently to begin levelling for the Company's base of operations and more importantly, to begin road work for drill rig access." He continued: "We have identified a number of high-quality gold targets and the Jagger Zone continues to excite us as this particular gold bearing structure demonstrates excellent continuity as we trace it northwards." He concluded: "As National Leader of the Africa Group and Québec Leader of the Mining Group at McCarthy Tetrault LLP, Pierre brings to Kobo his mining and metals experience along with his extensive network in West Africa which will prove invaluable as the Company advances its exploration plans going forward and works on securing additional exploration permits in Cote d'Ivoire and other jurisdictions within the continent."

Phase One Exploration Program Update – Kossou Gold Project

On April 13, 2023, the Company signed a drilling contract with Geodrill for the planned RC drill program at Kossou. The Company plans commence its maiden 8,000+ m RC drill program on key targets within the Kossou exploration permit in June 2023, including the Jagger Zone ("Jagger"), Road Cut Zone ("RCZ") and Contact Zone ("CZ"). The Company's immediate goal is to define significant extents of near surface zones of gold mineralisation and results of its first phase of drilling will determine which targets warrant additional drilling to depth to extend potential mineralised zones.

In advance of its planned drilling campaign in June 2023, the Company continued other exploration efforts at Kossou by completing two additional trenches and making new surface discoveries of mineralisation at Jagger.
Since the Company's previous update on April 13, 2023, mapping and trenching of the newly discovered shear zone with highly silicified breccia zones at Jagger has been extended another 250 m north previous results (10.55 g/t Au), suggesting over 750 m of strike extent on the target. Strong geochemical evidence also supports a further extension to the north and new trench targets have been laid out.

To help further define and map gold bearing structures at this zone, the Company also initiated a detailed in-fill soil geochemical sampling program within the larger soil anomaly. Additionally, two trenches will also be excavated at the CZ as part of the initial exploration program at this target.

Additional Exploration Opportunities at the Kotobi Permit

The Company has initiated a 1,520-line km unmanned autonomous vehicle ("UAV") magnetics survey to aid in a further geological assessment of its Kotobi Permit. The magnetic survey is being undertaken by MWH Geo-Surveys International Inc. and is expected to be completed in May 2023. Results of the survey will be compiled with current soil geochemistry and rock sampling results to determine potential targets for further exploration.

Figure 1: Research Permit and Applications Location Map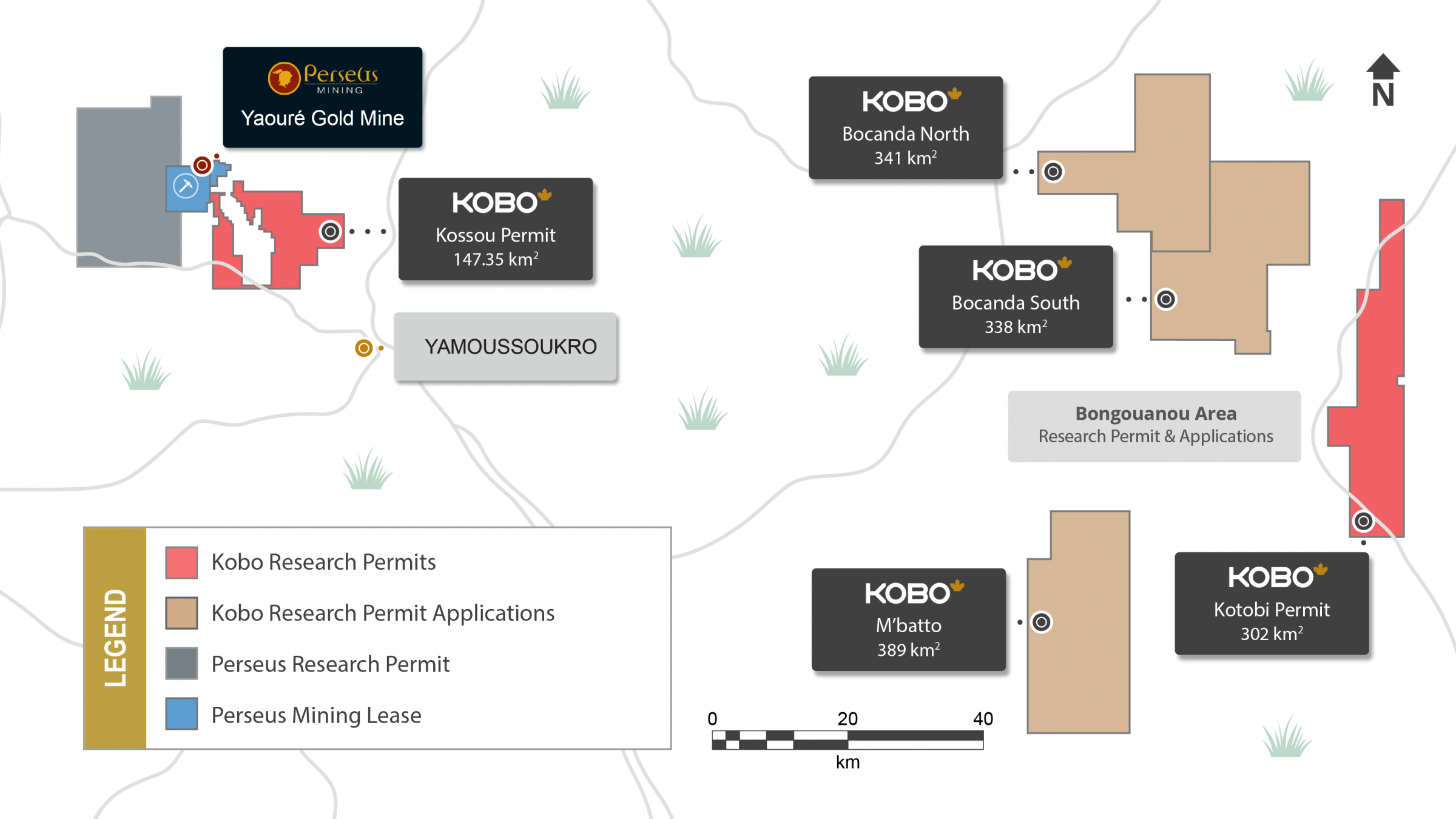 Appointment of Pierre Boivin as Policy Advisor - Africa

The Company is pleased to announce the appointment of Pierre Boivin as Policy Advisor - Africa. Mr. Boivin has over 40 years of diversified legal experience focusing on mergers and acquisitions, private equity, and related commercial matters across several industries, notably mining, oil, and gas and energy in Canada and internationally, including sub-Saharan Africa. Mr. Boivin is currently Partner of the National Leader of the Africa Group, Quebec Region, Leader of the Global Metals & Mining Group, and member of the Business Law Group at McCarthy Tétrault LLP.

In addition to his legal practice, Mr. Boivin's sits on various boards, including Development Finance Institute of Canada (FinDev Canada), NSIA Capital Participation (Ivory Coast) as a nominee of the National Bank of Canada, Export and Development Canada (EDC). He is also Vice-President of the Board of directors of the Canadian Council on Africa. Mr. Boivin is a member of various associations, including the Canadian Bar Association, the American Bar Association and the International Bar Association.

Mr. Boivin was admitted to the Quebec Bar in 1981, is a graduate of the Canadian Institute of Directors and holds a Bachelor of Law the Université Laval.

Q4 and Annual 2022 Financial & Operational Results and Q1 2023 Subsequent Events
The Company completed limited exploration work in the first three quarters of 2022, instead focusing on fund raising efforts during this period. During Q4 2022, the Company recommenced exploration activities by completing ten new trenches and lengthening two previous trenches on geochemical anomalies hosted at RCZ and Jagger for a total length of approximately 986 m. A total of 1,027 rock samples were collected the trenches and other surface showings. Of this total, 662 samples were submitted to SGS Laboratories in Yamoussoukro for analysis. The results of these 662 samples are included in an updated technical report issued as part of the Company's reverse takeover ("RTO") transaction (see press release dated March 29, 2023).
The Company issued an updated technical report by Kangari Consulting LLC as a requirement for its Qualifying Transaction (see press release dated November 1, 2022). The report titled "NI 43-101 Technical Report of the Kossou Gold Project, Yamoussoukro District, Côte d'Ivoire" with a report date and effective date of December 19, 2022 (the "Technical Report") was filed on April 27, 2023. The Technical Report was updated with all trench and rock sample results obtained prior to the cut-off time and provides a significant increase in understanding of priority targets.
On February 24, 2023, the Company and Boko Resources Inc. ("Boko") closed an offering, on private placement basis for aggregate gross proceeds of C$4,676,400 (see Business Overview – Concurrent Financing in the Company's management's discussion and analysis for the year ended December 31, 2022).
On March 29, 2023, the Company completed its Qualifying Transaction with Boko (see press release dated March 29, 2023)
On March 31, Kobo was listed on the TSX Venture Exchange under the symbol KRI.
The Company's audited annual consolidated financial statements for the year ended December 31, 2022 and related management's discussion and analysis are available on SEDAR as well as on its website at www.koboresources.com.

Review of Technical Information

The scientific and technical information in this press release has been reviewed and approved by Paul Sarjeant, P.Geo. who is a Qualified Persons as defined in National Instrument 43-101. Mr. Sarjeant is the President and Chief Operating Officer and Director of Kobo Resources Inc.

About Kobo Resources Inc.

Kobo Resources is a growth-focused gold exploration company with a compelling new gold discovery in Cote d'Ivoire, one of West Africa's most prolific and developing gold districts, hosting several multi-million-ounce gold mines. The Company's 100%-owned Kossou Gold Project is located approximately 20 km northwest of the capital city of Yamoussoukro and is directly adjacent to one of the region's largest gold mines with established processing facilities.

The Company is drilling to unlock the potential size and scale of Kossou within 9+ km strike length of highly prospective gold in soil geochemical anomalies with excellent rock and trench sampling results. The Company's 2023 exploration plan calls for over 8,000 meters of reverse circulation drilling with an immediate goal of defining significant near surface zones of gold mineralisation. Kobo offers investors the exciting combination of high-quality gold prospects led by an experienced leadership team with in-country experience.

Kobo's common shares trade on the TSX Venture Exchange under the symbol "KRI". For more information, please visit www.koboresources.com.

###

For further information, please contact:
Edward Gosselin
Chief Executive Officer and Director
1-418-609-3587
ir@kobores.com

Twitter: @KoboResources | LinkedIn: Kobo Resources Inc.

NEITHER THE TSXV NOR ITS REGULATION SERVICES PROVIDER (AS THAT TERM IS DEFINED IN THE POLICIES OF THE TSXV) ACCEPTS RESPONSIBILITY FOR THE ADEQUACY OR ACCURACY OF THIS RELEASE.

Cautionary Statement on Forward-looking Information:

This news release contains "forward-looking information" and "forward-looking statements" (collectively, "forward-looking statements") within the meaning of the applicable Canadian securities legislation. All statements, other than statements of historical fact, are forward-looking statements and are based on expectations, estimates and projections as at the date of this news release. Any statement that involves discussions with respect to predictions, expectations, beliefs, plans, projections, objectives, assumptions, future events or performance (often but not always using phrases such as "expects", or "does not expect", "is expected", "anticipates" or "does not anticipate", "plans", "budget", "scheduled", "forecasts", "estimates", "believes" or "intends" or variations of such words and phrases or stating that certain actions, events or results "may" or "could", "would", "might" or "will" be taken to occur or be achieved) are not statements of historical fact and may be forward-looking statements. In this news release, forward-looking statements relate among other things, to: timing, scope and completion of planned exploration program, the ability of the Company to successfully achieve its business objectives, expectations regarding the availability of financing, the ability of the Company to develop and commercialize its properties, and expectations for other economic, business, and/or competitive factors. Forward-looking statements are necessarily based upon a number of estimates and assumptions that, while considered reasonable, are subject to kn and unkn risks, uncertainties, and other factors which may cause the actual results and future events to differ materially those expressed or implied by such forward-looking statements. Such factors include, but are not limited to the Company's ability to execute exploration and development programs, the Company's ability to secure additional financing, the economic and political conditions in Côte d'Ivoire and in neighboring countries in West Africa, the effects of pandemics, such as COVID-19, on the global economy and the ability of the Company to secure adequate staff and equipment for its operations as well as a safe environment that follows recommended COVID-19 safety protocols; general business, economic, competitive, political and social uncertainties; and the delay or failure to receive regulatory approvals. There can be no assurance that such statements will prove to be accurate, as actual results and future events could differ materially those anticipated in such statements. Accordingly, readers should not place undue reliance on the forward-looking statements and information contained in this news release. Except as required by law, Kobo assumes no obligation to the forward-looking statements of beliefs, opinions, projections, or other factors, should they change, except as required by law.