Regional Geological Overview
Now is the perfect time to enter the mining sector in Côte d'Ivoire.
Côte d'Ivoire is relatively under-explored compared to its West African neighbors, but it is home to approximately 35% of the Birimian Group exposure in West Africa, more than any other country. Birimian Group rocks host the majority of gold deposits in West Africa.
West Africa's Birimian greenstone belts have produced at least twenty gold deposits greater than 2 M oz since 2000 with ten deposits greater than 4 Moz. Birimian Group formations are home to all of the major gold mines in West Africa.
Côte d'Ivoire has accounted for approximately 3.6% of historical production and remains underexplored and developed compared to its neighbours.
Annual production in 20224:
Ghana – 127 tonnes
Mali – 101.7 tonnes
Burkina Faso – 96.2 tonnes
Guinea – 63.5 tonnes
Côte d'Ivoire – 48 tonnes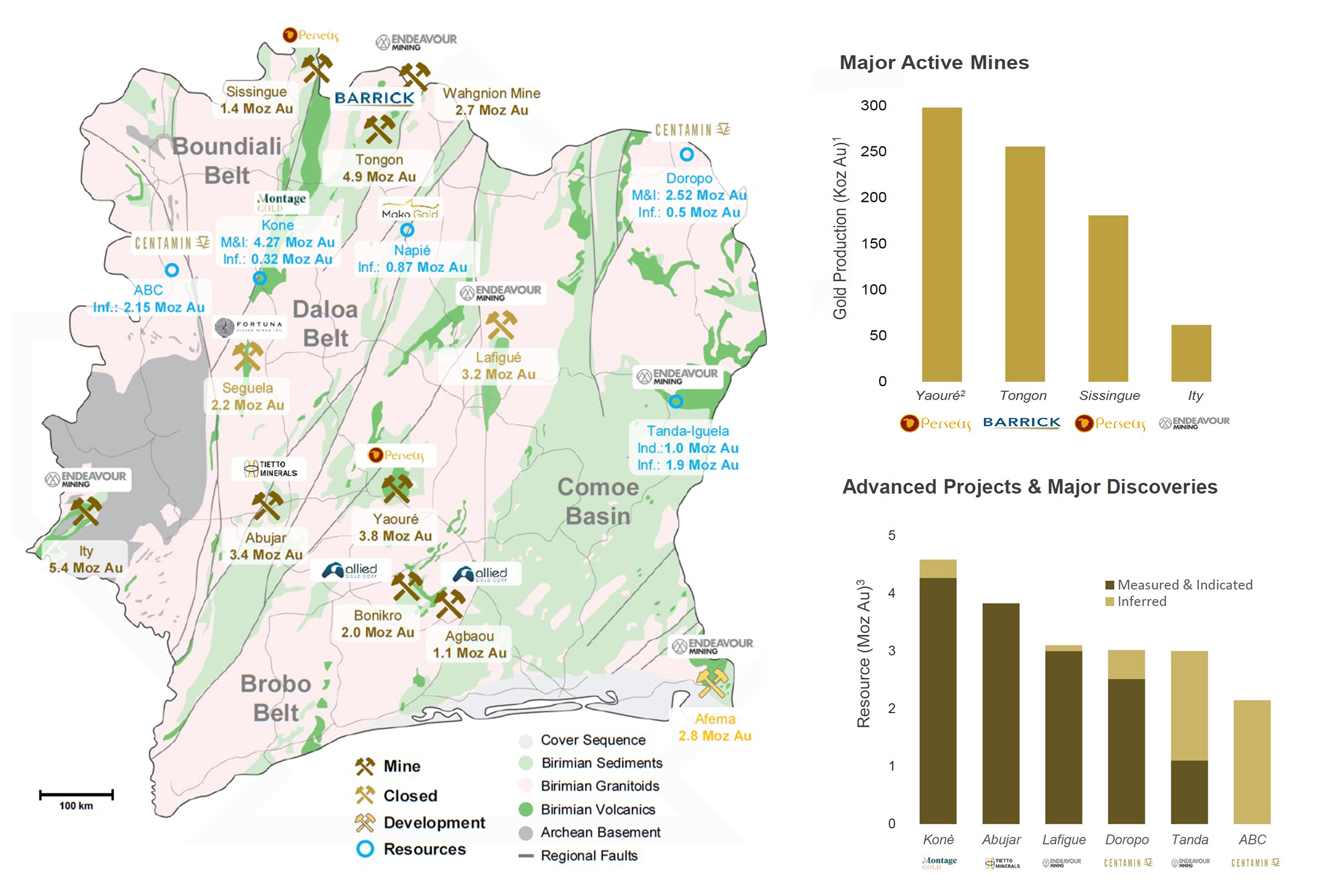 Above: Resources on map are assumed Measured and Indicated (M&I) unless otherwise indicated.

Source: Capital IQ, Company Filings
1. Fiscal year 2020 production figures.
2. Production for the year ended June 30, 2021
3. Measured, Indicated and Inferred Resources: www.centamin.com, www.montagegoldcorp.com, www.tietto.com, www.endeavourmining.com

Côte d'Ivoire is underfunded and lacks significant exploration effort using modern methodology compared to its neighbors. Technical concepts have been proven in other West African jurisdictions, which reduces risk in Côte d'Ivoire. Côte d'Ivoire offers a unique opportunity for exploration and development companies to quickly access highly prospective geological environment.
Now is the perfect time to enter the mining sector in Côte d'Ivoire.

West Africa hosts a number of multi-million ounces gold deposits and exploration and development activities continue to discover and progress significant new opportunities. In 2020 West African countries annual gold production was approximately: 4.9 Moz in Ghana, 3.3 Moz in Mali, 3.3 Moz in Burkina Faso, 1.3 Moz in Ivory Coast and 1.9 Moz in Guinea4.
Production Ghana, Mali, Burkina Faso and Guinea has totaled +119 Moz of gold 2011 to 2021, whereas Côte d'Ivoire has only produced 9.5 Moz in the same time frame4.
Côte d'Ivoire hosts approximately 35% of the Birimian Group units mapped in West Africa and the country is regarded as largely under-explored as it has not seen the level of development of neighbouring countries in West Africa.
The geology of Côte d'Ivoire and most of West Africa consists predominantly of Archaean and Paleoproterozoic terranes. The coastal regions of Côte d'Ivoire are largely covered by Mezozoic-Cenozoic sedimentary basin.



Source: Adapted from "Re-Os Geochronological Evidence for Multiple Paleo-Proterozoic Gold Mineralising Events at the Scale of the West African Craton", L. Reisberg et al, 2015

Côte d'Ivoire is largely underlain by the Birimian Baoulé-Mossi domain with the western part of the country underlain by the Archaean Man-Leo Shield. Whilst the Baoulé-Mossi domain contains slivers of Archaean rock it is dominated by Lower to Middle Proterozoic Birimian rocks deformed during the Eburnean orogeny (2 to 1.8 Ga). Birimian Supergroup rocks cover more than two-thirds of the country (Lompo 2010; Vidal et. Al. 2009) and consist of granitoid zones with volcano-sedimentary greenstone belts. The predominant strike of the belts and other key structures is north-northeast to south-southwest, typically with sub-vertical dips. The dominant regional metamorphism is greenschist facies. Gold mineralisation within the Birimian Group rocks is typically structurally controlled and are considered mesothermal or orogenic lode (and disseminated) deposits associated with major crustal scale shear zones, secondary and tertiary structures which function as pathways and traps for mineralising fluids. The Birimian Group host the majority of West Africa's major gold mines5.
1 Fiscal year 2020 production figures
2 Production for the year ended June 30, 2021
3 Measured, Indicated and Inferred Resources – from individual company website data.
4 Recent company reports
5 https://www.juniorminingnetwork.com/junior-miner-news.html
6 World Gold Council 2021: Gold Mining Production Volume Data