Kossou Gold Project
Location Yamoussoukro, Côte d'Ivoire
Ownership 100%
Land Package 147.365 km2
Mineral Gold
Status Exploration
Infrastructure Well-established roads, water, and power access, skilled labour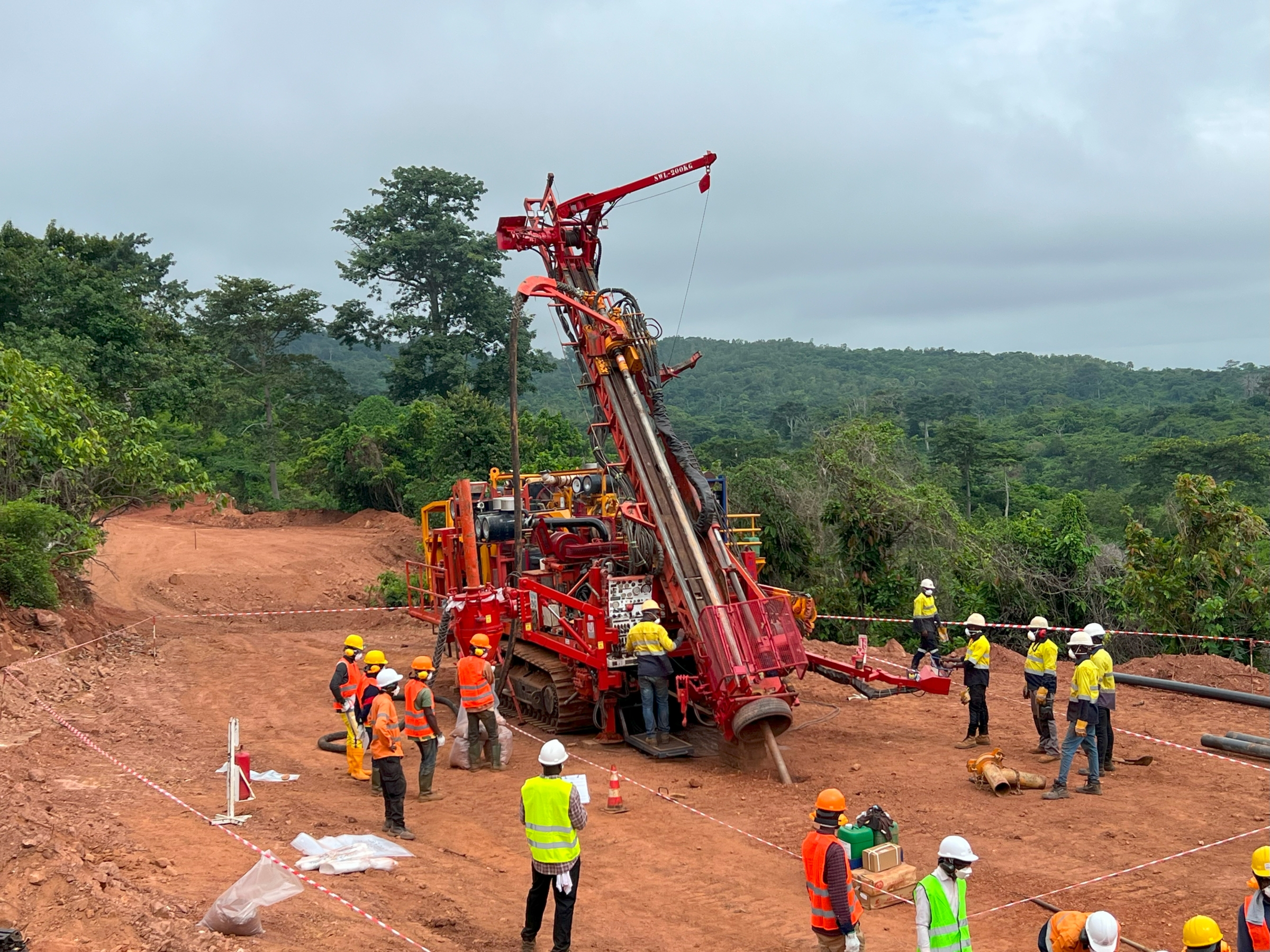 Kobo's primary objective is to focus on the exploration and development of the Kossou Gold Project, (permit PR0852) which covers 147.365 km2. The Kossou Gold Project is located in the Yamoussoukro and Bouaflé regions of central Côte d'Ivoire. The permit is located approximately 22 km to the northwest the capital city of Yamoussoukro and 250 km the financial capital of Abidjan. Importantly, key gold showings are located within 7 to 10 kilometers of the Yaouré Mine open pits and process facility and are connected by a well-established road.
Initial 2023 Drill Program Completed
Kobo has completed initial drilling at its Kossou Gold Project located in Cote d'Ivoire, West Africa with 5,887 metres drilled in 53 reverse circulation drill holes in under five weeks. Drilling has successfully confirmed significant gold mineralisation at the Road Cut Zone and additional strong gold mineralisation within the Jagger Zone. Further exploration has elevated the Kadie Zone to potential drill status.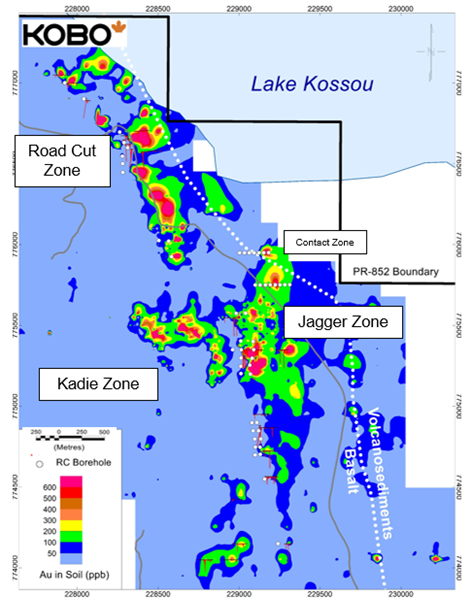 Trenching work at the Kossou Gold Project continues, and additional drilling will take place following a short pause to evaluate the results of our initial phase of drilling. The Company is currently building access roads and additional drill platforms in anticipation of a diamind drill program which is expected to commence in early 2024.
Proximity to Nearby Operator Considered an Asset
Our immediate proximity to the Yaouré Gold Mine operated by Perseus Mining gives Kobo a significant advantage in terms of development options as the Company progresses the project. There is significant infrastructure already in place which provides Kossou with potential options if an economic deposit can be delineated.
The Yaouré Gold Mine is reported to contain gold resources (Measured and Indicated) of 2.8 million ounces (1.59 g/t Au), with 2.07 million ounces in Proven and Probable Reserve (1.73 g/t Au). The most recent feasibility study completed on the project concluded an 12.5-year mine life with an all-in sustaining cost of $1,116 per ounce (www.perseusmining.com).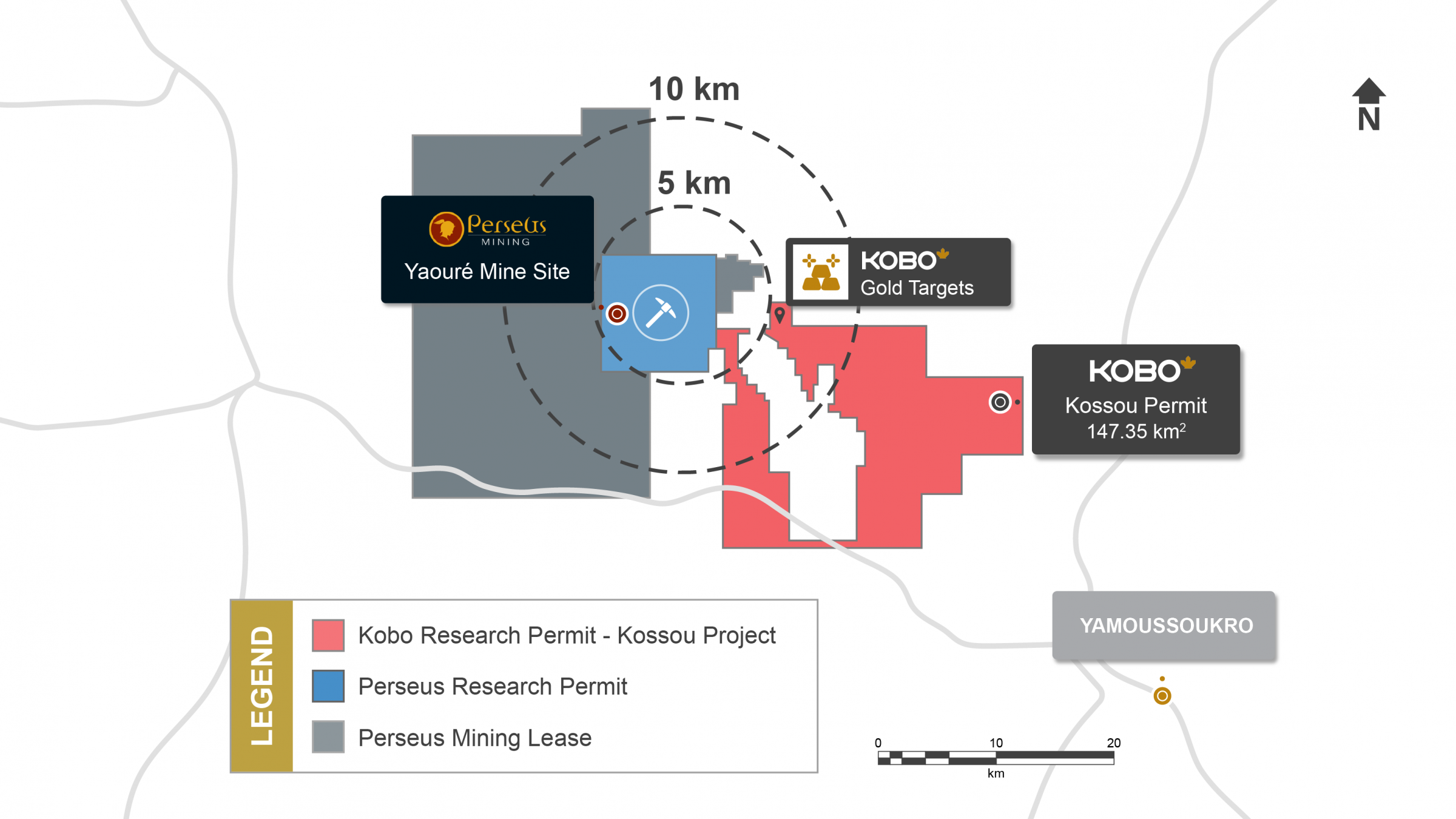 Jagger Zone
The Jagger Zone represents the largest and strongest soil geochemical anomaly yet discovered at Kossou. The Company completed a total of 25 RC drill holes for 3,164 m and has recorded gold mineralisation in drilling over a total strike extend of 1,400 m. Significant gold mineralisation has been intersected in each hole drilled to date.
Jagger continues to show broad zones of gold mineralisation with higher grade sections within a strong north-south shear zone. Results from KRC047 and KRC048 have confirmed gold mineralisation 200 m north of the previously reported results. This gap is underlain by a strong gold soil geochemical anomaly and will be targeted for future drilling.
Jagger Zone Drill Collar Positions and Key Results
KRC015 - 6 m at 4.31 g/t Au
KRC018 – 7 m at 1.47 g/t Au, including 2 m at 4.17 g/t Au
KRC047 – 6 m at 1.67 g/t Au, including 2 m at 4.17 g/t Au and 5 m at 1.01 g/t Au
KRC048 – 5 m at 1.20 g/t Au
Collar Location Map — Jagger Zone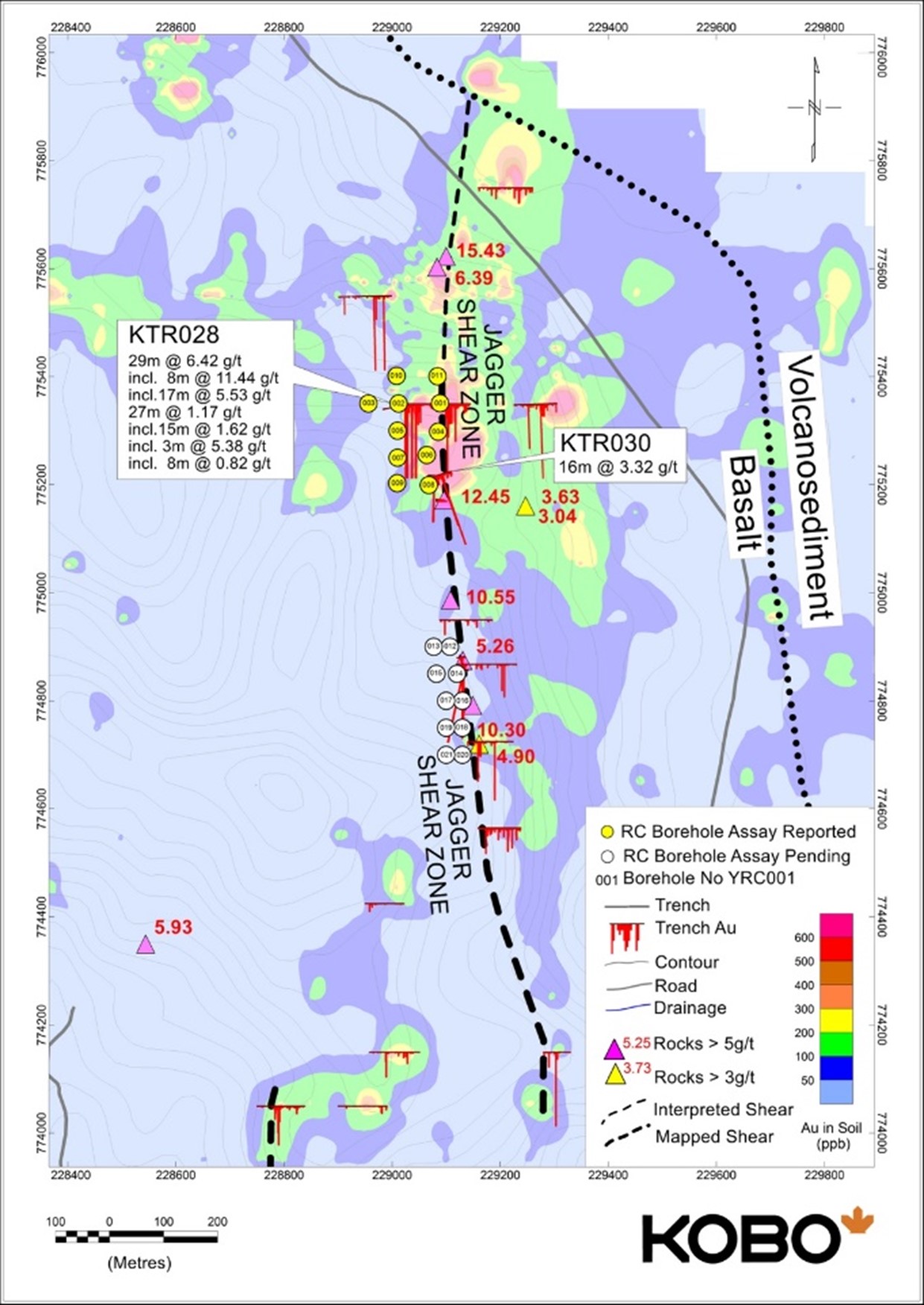 Jagger Zone and Jagger South Zone Trench Results
Sampling results at the Jagger Zone and Jagger South demonstrate excellent, multiple high-grade zones of gold mineralization. Multiple parallel zones of strong gold mineralisation have been defined in the trench. Results include:
The most westerly zone features 6.42* g/t over 29.0 m, including sub-intervals of 18.04 g/t Au over 5 m, 11.44 g/t over 8 m and 5.53* g/t Au over 17 m
The second and more easterly shear zone featured 1.17* gpt Au over 27 m, including sub-intervals 1.62 g/t Au over 15.0 m, 5.38 g/t Au over 3.0 m and 0.82 g/t Au over 8.0 m
The Company received assay results from a new trench (KTR030) uncovered at the Jagger Zone during drill pad road work for hole KRC008
KTR030 returned results of 16 m at 3.32 g/t Au, including 5 m at 9.23 g/t Au and was undercut by holes KRC008 and KRC009
An additional NW-SE trending parallel zone (Jagger South Zone) is evident west of the main anomaly. Trenches KTR022 (1.15 g/t Au over 2.0 m) and KTR023 (0.8 g/t Au over 13.0 m, including 1.79 g/t over 4.0 m), represent an additional gold bearing structures that represent lower order targets for further exploration.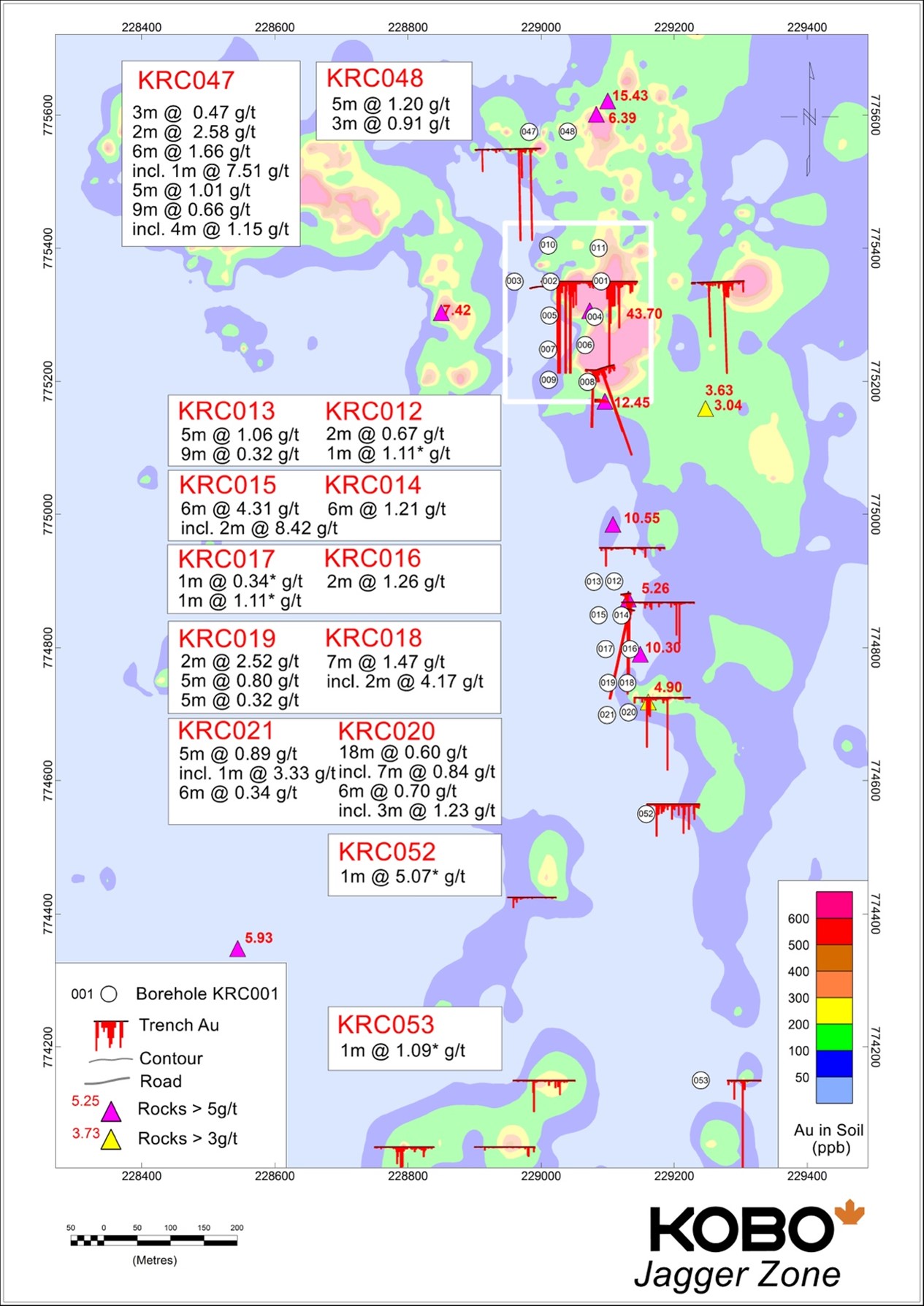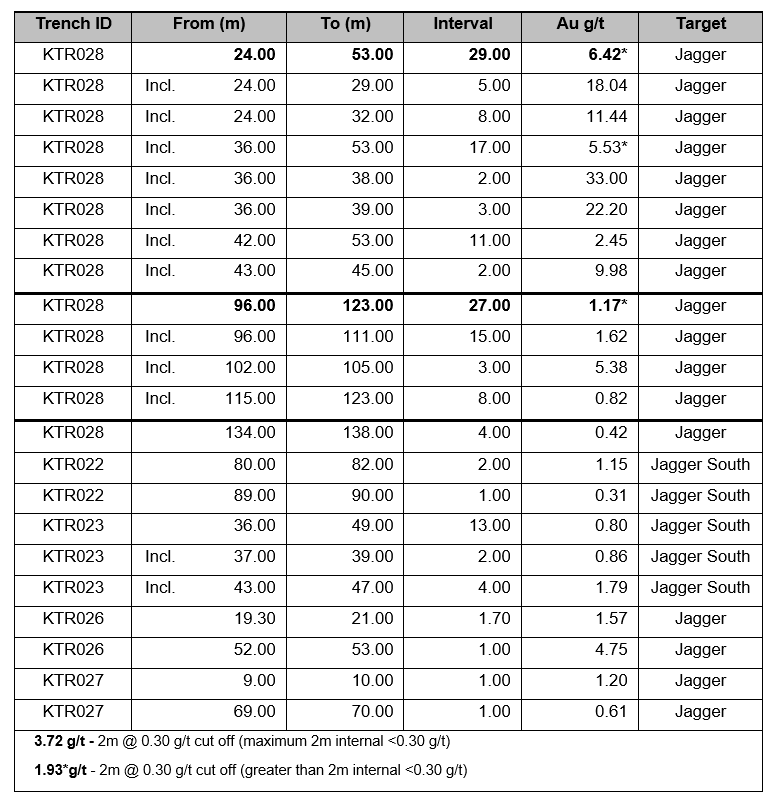 The Road Cut Zone (RCZ)
The RCZ was initially discovered during early reconnaissance of the Permit and lies within strongly altered volcanic rocks heavily cut by quartz and quartz-carbonate veins/veinlets. The Company completed 1,699 m of RC drilling in 13 holes and has defined broad zones of gold mineralisation with high grade sections hosted within sheared and silicified volcanic units over a strike length of 850 m. Gold mineralisation has been confirmed in clearly defined mineralised zones to a depth of 80 m below surface. Gold in soil geochemistry indicates that this target can be traced over a strike length of 1.7 kilometers and is a prime target for continued drilling. (KTR012)
Road Cut Zone Drill Collar Positions and Key Results
KRC022 - 8 m at 3.18 g/t Au
KRC041 - 10 m at 1.33 g/t Au
KRC040 - 12 m at 1.49 g/t Au
KRC044 - 13 m at 2.10 g/t Au, including 9 m at 2.94 g/t Au and 5 m at 4.48 g/t Au, including 2 m at 10.41 g/t Au and a separate interval of 3 m at 3.16 g/t Au
KRC051 – 5 m at 3.27 g/t Au, including 2 m at 4.89 g/t Au

The Kadie Zone
Recent infill soil sampling at the Kadie Zone has identified three strong geochemical anomalies 200 m, 400 m, and 600 m west of the main Jagger Zone with individual soils sampling up to 2,040 ppb, 6,010 ppb and 1,620 ppb respectively. Recent prospecting and mapping has identified surface samples up to 7.42 g/t Au in mineralisation similar to that noted in trench KTR028. The total combined strike extend of these anomalies totals approximately 750 m.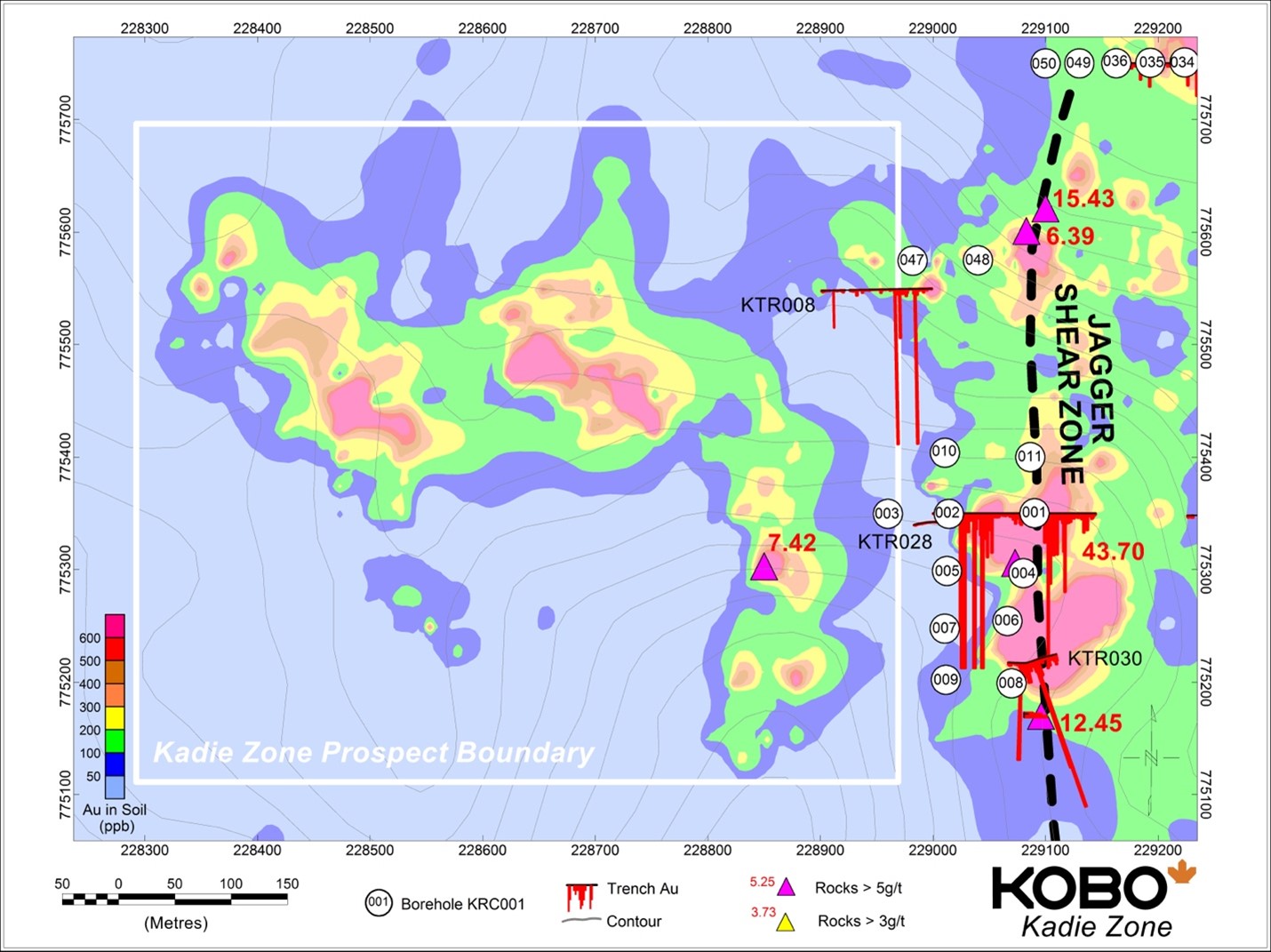 Summary of Initial 2023 Drill Program Results

Historic Drilling
Kobo began exploration efforts in 2016 initially examining an alluvial/eluvial deposit in what is designated the "Beach Zone". A series of 164 pits were dug and the contents of the pits were hand washed for evidence of gold. All but nine pits contained visible gold.



Subsequent mapping and prospecting work led to the discovery of the RCZ. Strong rock sampling results and early soil geochemical survey results showed indications of significant potential mineralisation which led Kobo to expand this exploration program. Additional mapping, rock and soil sampling and trenching resulted in the delineation of at least 7 significant zones of potential gold mineralization. Exploration work is ongoing.
Geochemistry
Kobo has collected 3,700+ soil samples excluding blank and duplicate samples. Gold in soil geochemical results have outlined multiple anomalous trends including:
Beach-RCZ ~ 1.6 km strike
Jagger Zone ~1.8 km strike (up to 500+ m width)
Jagger Zone South ~2.8 km strike
Kadie Zone ~ 750 m in three distinct anomalies
All geochemical targets are supported with rock samples or extensive artisanal mining. These geochemical targets, along with trenching and surface mapping formed the basis of the 2023 drill program.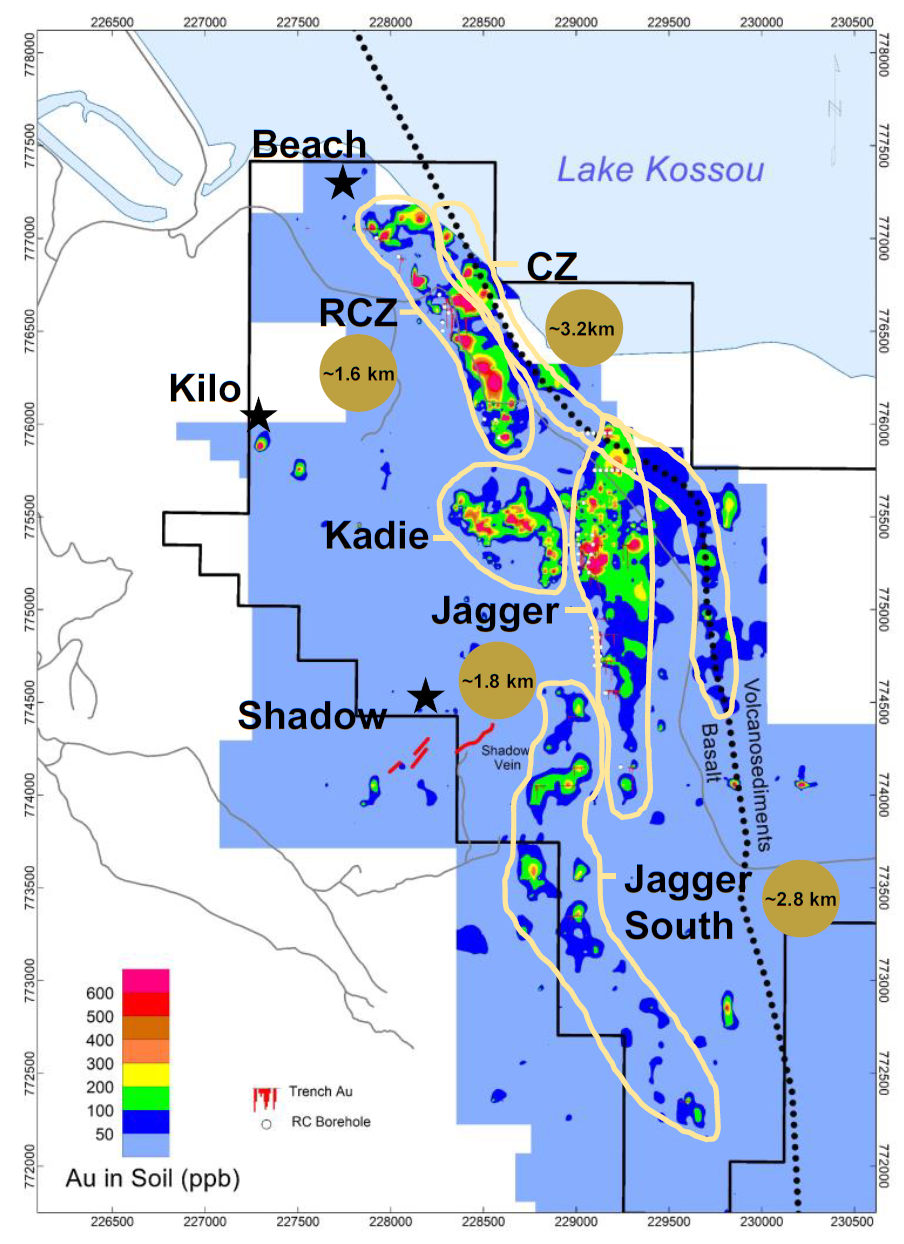 Airborne Magnetics (Drone) Survey
Between August 13 and August 28, 2020, a 1,195.4 km Unmanned Aerial Vehicle ("UAV") magnetic survey was completed over a portion of the permit by MWH Geo-Surveys International Inc. of the USA ("MWH"). MWH utilized a DJI M600 Pro drone, a Geometrics MagArrow (cesium vapor magnetometer) and GEM System GSM19 base station. Survey lines were flown on 50 m spacing and at a mean terrain clearance of 62.3 m.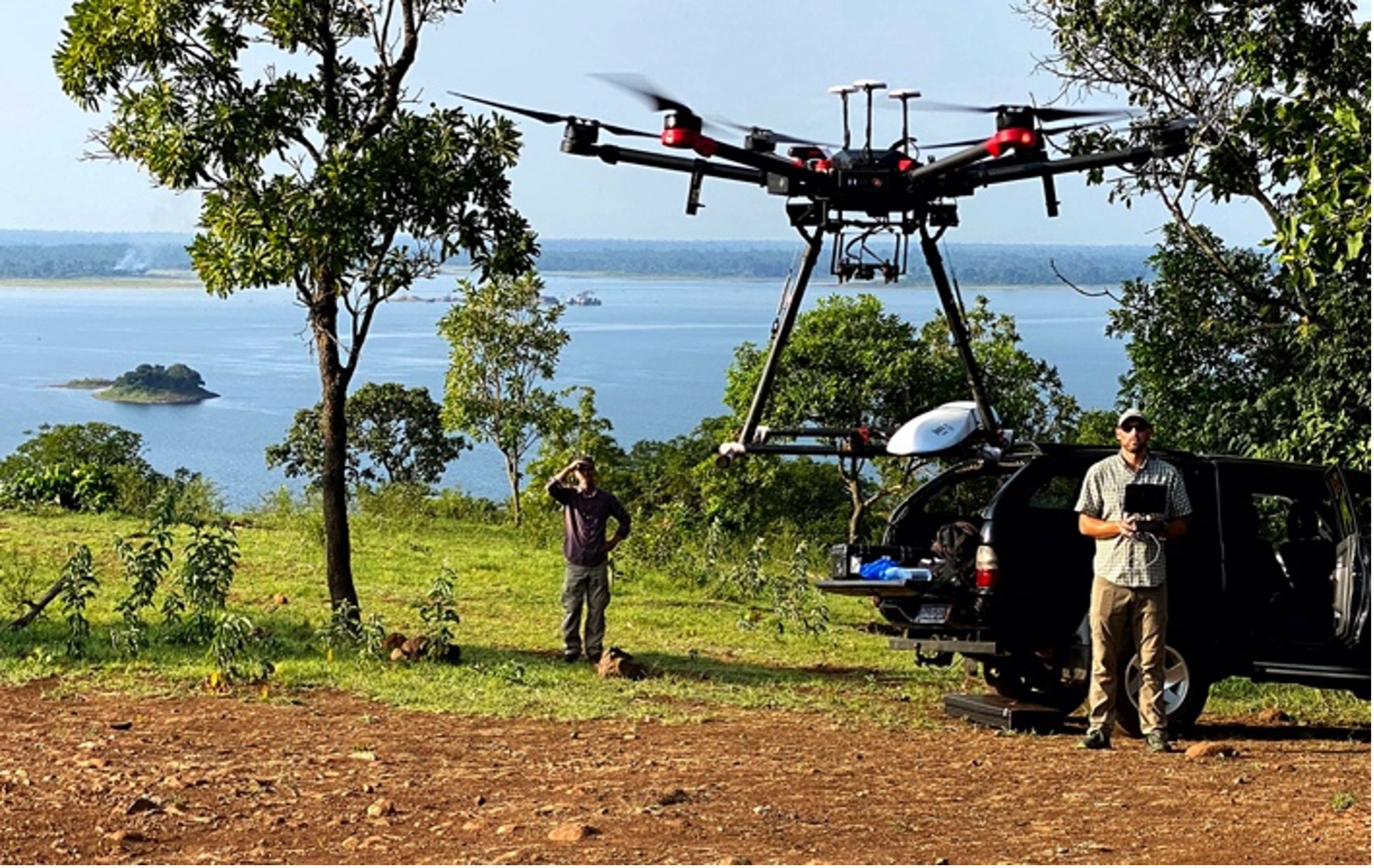 Magnetic Data
Processing and analysis of the survey results have shown good correlation with geochemical, trench and surface rock sampling results and have aided in an advancement of the geology of the project.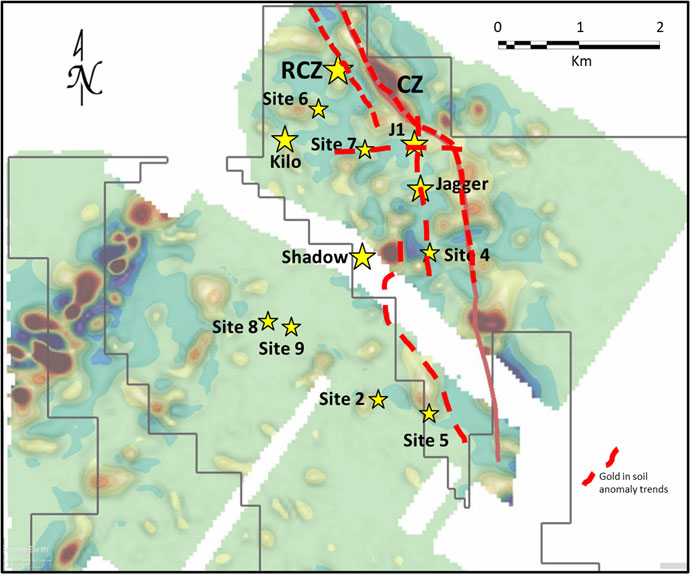 Geological and Structural Study
In March 2021, Kobo contracted InnovExplo to carry out a field mapping and a structural study to gain a better understanding of the local geological environment and controls on mineralisation. Result of the study were very positive.
Geological observations and structural data indicate a structural corridor that links kn showings and is coincident with both the magnetic interpretation, rock and soil sampling results. The work also postulated a second structural corridor west of the main area of interest, linking the newly discovered Kilo and Shadow zones.
Gold mineralization occurs within quartz and quartz/carbonate veins/veinlets and disseminations in the host volcanic rocks associated with tensional 'en echelon' and conjugate shear and fracture networks.
Technical Reports